Using terms such as CBD distillates, full-spectrum oils, and isolates, navigating an ever-expanding market can easily be overwhelming. Cannabidiol, also known as CBD, is one of the many derivatives found in hemp plants. It is widely used because of the benefits it offers without psychoactive effects. In this article, we will discuss what exactly CBD distillate is. But before that, you must know what CBD is.
What is CBD?
CBD,  also known as cannabidiol, is a non-intoxicating compound found in hemp and cannabis plants. It is often used as a dietary supplement. This cannabinoid has been shown to have potential health benefits for mammals (and humans). It works by interacting with the endogenous cannabinoid system.
The endocannabinoid system is a powerful regulatory organ that monitors a  variety of physical functions such as sleep patterns, mood, inflammation, and hormonal balance. The CBD distillate mimics the function of the endogenous cannabinoids produced in our body and thus helps to rebalance many of these systems in our body. Cannabidiol has also been shown to help the digestive system eliminate toxins,  induce relaxation, and reduce stress.
While the CBD product has many advantages, it is not FDA regulated and is not intended to diagnose, treat, cure, or prevent any disease. For more information on the benefits of CBD, check out this highly informative article by the Outwittrade team for the latest science-based facts about cannabidiol.
Also Read: Is Hemp Seed Oil Gluten-Free
What is a CBD Distillate?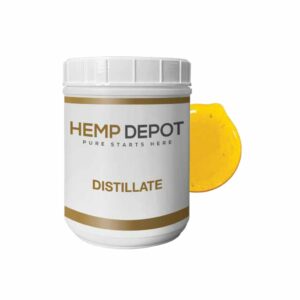 CBD distillate is a high concentration extract. The latter is less common, but it comes from hemp and cannabis plants. CBD distillates usually contain more than 90% Navidiol, the rest are other vegetable oils and extracts (usually less than 0.3%) containing smaller cannabinoids, terpenes, and THC. It is also well-known for being one of the cleanest and purest extracts available on the market and is only surpassed by CBD isolates.
The scientific definition of distillation usually involves the purification of the substance by a series of heating and cooling methods. The end result of the distillation process is called the distillate. Distillation of CBD (cannabinoids) is quite different from the old methods of making cannabidiol concentrates such as grinds, waxes, crumbles, and budders. This process uses heat, steam, and vacuum to separate the compounds in solution to obtain distilled cannabinoids. By manipulating the boiling point of each compound, the extractor can collect them individually. Distillates can be purified as needed by running the distillation process multiple times.
For CBD distillates, the final product is a golden color with a viscosity very similar to honey. As you can imagine, CBD distillates are not the only products that can be made from hemp. You can make all kinds of cannabinoids in clean, pure form, such as CBG, CBC, CBN, THCV distillates, or highly concentrated from cannabis or cannabis. This process will enable the processing and sale of CBD distillates in states where THC-injected products are not yet legal.
Is CBD Distillate psychoactive?
CBD distillations reduce inflammation and relieve pain and nausea which treats some occlusal disorders. It is a mappable connection that has significant therapeutic benefits. When consuming CBD distillations, tap the therapeutic advantage, but the distillation product has not achieved an addictive effect, so it does not cause the feeling of high.
Humans and other mammals have an internal network of chemicals and receptors in the central nervous system. The peripheral nervous system is called the endocannabinoid system. These receptors called CB1 and CB2 bind molecules and ligands (intrinsic cannabinoids such as Anandamide) to control glutamic acid and neurotransmitters such as dopamine. The endocannabinoid receptors, ligands, and specific enzymes work at a concert to affect the various processes in the body, including thinking, memory, mind, pain management, and appetite.
Also Read: How To Start A CBD Business In Alabama
Can you vape CBD Distillate?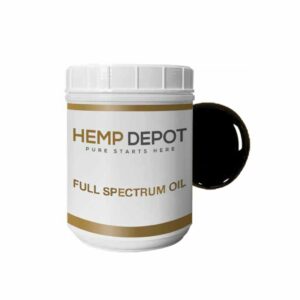 The auxiliary market is full of CBDs of CBD at a specific level, an overall or emission spectrum, and CBD products less than 0.3% THC. CBD distillation products can be found in various ways in the market, but the most popular  CBD oil, rubber, bath bombs, capsules, tinctures, and chocolate. Vaping, however, is one of the best ways to take CBD.
For many users, vaping has advantages over ingestible oil products. When heated and inhaled, these compounds are quickly and effectively absorbed by the body. The rapid onset of efficacy and effect is highly desirable, but the current state of the arc industry can be offensive to health-conscious users.
Buying CBD Oil Online
HempDepotWholesale is perhaps the most famous CBD wholesaler on the internet. They get their CBD organically to make certain the best quality. Furthermore, their items have a THC content material of much less than 0.3%. They additionally submit consequences from third-party lab assessments on their website. A listing of all of the contents may be located on the label of every product. HempDepotWholesale strives to deliver top-notch CBD and hemp merchandise.  The satisfactory issue is that you can store cash via way of means of shopping merchandise in bulk together with your brand`s label.
For more information, contact us!
---
Interesting Reads:
Where to Buy CBD Oil in Pennsylvania