Honey is a product that can go well with a lot of recipes. You can use it in your smoothies, cookies, cakes, fruit salads, etc. It also acts as a healthier replacement for sugar and other sweeteners. Speaking of sweeteners, honey is so much sweeter and tastier than sugar. Its creamy texture blends well with anything. Additionally, honey has some excellent health benefits as well.
All recipes that call for honey can be enhanced with CBD infused honey, sometimes known as "canna honey," or just a hot mug of tea can be made to taste exquisite. You can easily add a cannabis infusion to nearly any dish that might require a bit of sweetness — and a lot of grins — once you've combined some honey with cannabis. So go no further if you want a little rush from a natural, healthy sweetener.


Health Benefits Of Honey
Honey is an ingredient full of nutrition. No wonder health specialists and brands recommend honey as an ingredient in several recipes. Eating honey alone can improve your skin, hair, and body. It comprises a good amount of antioxidants and carbs that help you repair, grow, and heal better.
Presence Of Antioxidants In Honey
Unprocessed and unheated honey contains several antioxidants. It is important to note that local honey doesn't have the nutrients as high-quality honey—the darker the honey, the better the quality.
Immunity
Honey helps boost the immune system. The antioxidants present in honey secure the immune system and make it healthier. It also has antibacterial properties that protect and improve the digestive system.
Dealing Easier With Cough
You must have seen people drinking honey with warm water during a cold or flu. It is not only to improve the overall health but also to cut down coughs from the body. The antimicrobial properties of honey kill the bacteria and soothe the area.
Honey For The Heart
Consuming honey can be good for blood which results in good heart health. It provides a good amount of antioxidants that keep the heart healthy.
Honey For Wounds
For centuries, turmeric and honey have been used as a medicinal paste for wounds. Both have anti-inflammatory and antibacterial properties that help a wound heal faster. Even some of the inner wounds are healed by honey at a faster rate. It is also helpful in times of burns.
Also Read: Understanding Delta 10 THC: Uses & Benefits
Blood Sugar Levels
Diabetes is one of the most common lifestyle diseases across the world today. A higher level of blood sugar mainly causes it. Honey as an agent may not decrease the blood sugar level, but it protects an individual from developing type 2 diabetes.
Hangover Cure From Honey
As honey speeds up the metabolism rate, feelings of nausea and dizziness can fade immediately with it. It has also been observed that a hangover headache fades with just two spoons of honey.
Weight Loss
Honey with warm water every morning can help you lose weight faster. It helps in controlling appetite.
Glowing Skin
Eating and applying honey can provide glowing skin. It nourishes the body and the skin with its nutrients, leaving a beautiful glow.
What Is CBD?
On that note, let us know about CBD before we talk about CBD infused honey. CBD is an extract of Cannabidiol from the Cannabis plant. For centuries, people have used CBD to cure different ailments. The parts of the plant that are used for the cure are the flowers and the fruits.
CBD is used as a natural substance for many purposes. According to the study, It has a list of health benefits, making it a popular food ingredient today. Some of them are stated below-
It is helpful for depression patients. Depression is the most common mental health problem today. With an unstable and fast-paced lifestyle, 6 out of 10 people deal with depression at least once. As depression leads to a lower level of happy chemicals in the patient, CBD surprises those chemicals. It brings the patient back to normality.
CBD, apart from depression, treats several types of panic disorders. It soothes anxiety and other emotional and chronic pain.
It is also helpful in migraines. As CBD relieves different types of pain, migraine is also one of them.
CBD can be helpful for epilepsy. According to several reports, more than 50 million people had epilepsy last year. Epilepsy is a neurological disease in which frequent seizures and loss of consciousness.
Also Read: THCP (Tetrahydrocannabiphorol): Safety And Legality
What Are The Benefits Of CBD Infused Honey?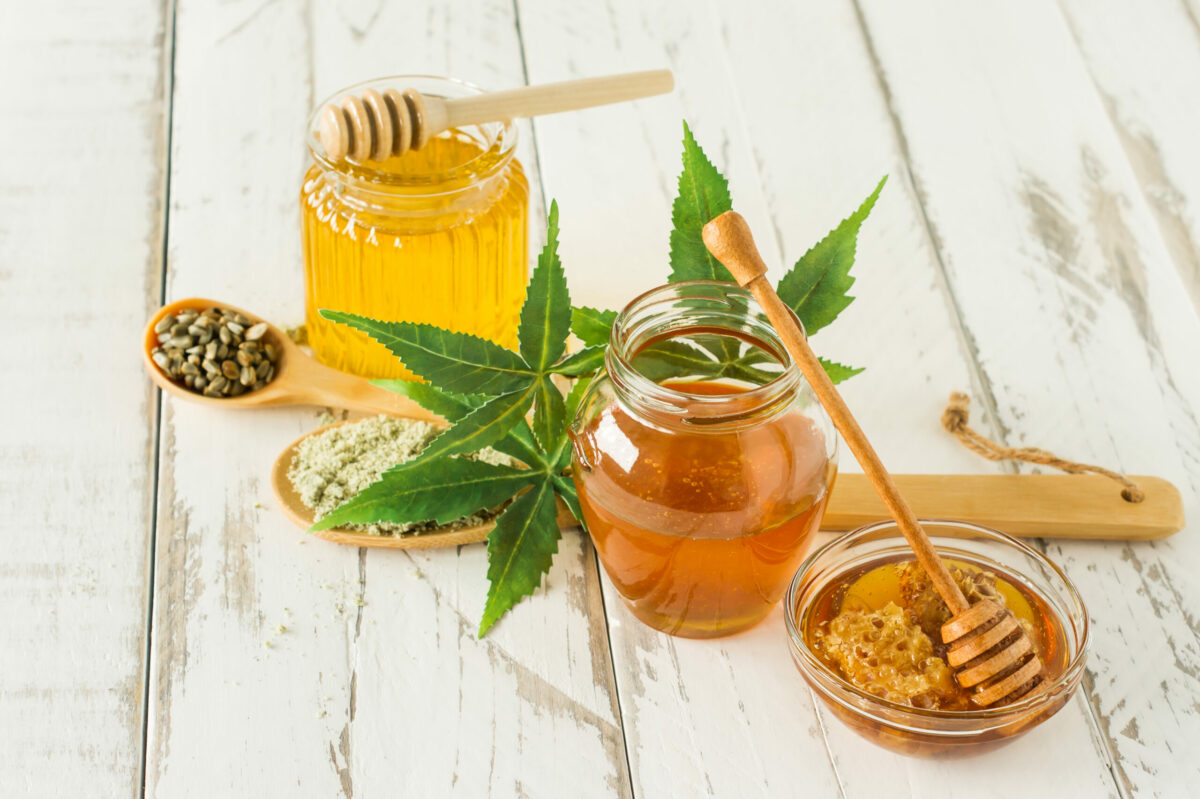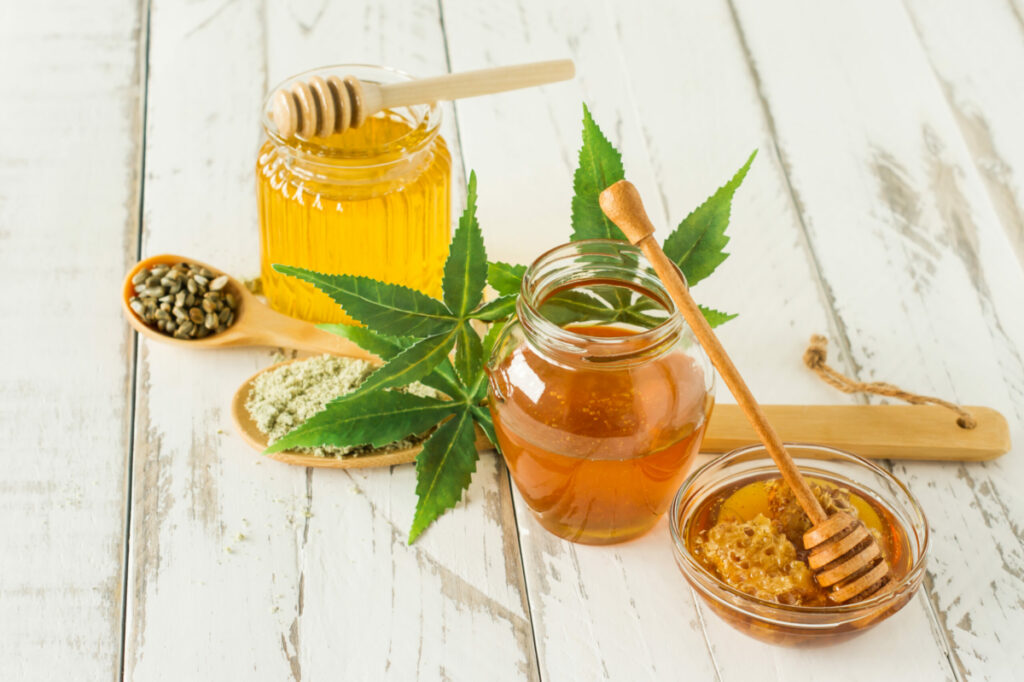 Some perks of using honey with CBD are listed below:
Improvement In The Functioning Of The Brain
CBD and honey together combine to be great food for the brain. Both help activates the good chemicals in the brain, which can improve its functioning. A lot of times, slower blood reaches the brain, which causes simple diseases and disorders. But with CBD, the blood flow gets much faster in the brain. On the other hand, honey consists of pinocembrin, which benefits the brain. It can give neuroprotective effects as a quick result.
Improvement In Gut Health
Honey is an immunity booster. CBD honey can help for better digestion and healthier gut health. It relieves an individual from constipation and improves the process of digestion. It makes the passage of toxins out of your body much more effortless. It also helps in cleansing the colon and boosting metabolism immediately.
Also Read: Hemp Protein Powder: An Excellent Natural Plant-Based Protein
Improvement In Anxiety
CBD is a significant mental health problem solver. It is not only used for depression but also for anxiety and PTSD. Many people also use it to treat other mental health disorders as it has calming effects on the brain. CBD soothes the body and comforts a person. An anxious person can immediately receive comfort with the help of CBD infused honey.
Improvement In Sleep Quality
Sleep is one of the most essential processes of the human body. It helps in repairing and proper functioning of the body. But unfortunately, insomnia is also one of the most common mental health problems today. With more and more lifestyle changes and stress, people are unable to sleep on a daily basis. A lot of people also face problems in getting quality sleep. They suffer from disturbed and broken sleep cycles that mess up the day's rest. CBD being a calming agent in honey, can help you sleep better. Honey, on the other hand, is also a soothing agent.
Also Read: Does CBD Oil Need To Be Refrigerated
Things To Gather
Choosing the strain- Choosing a high-quality CBD strain is very important instead of the general ones. A good quality strain provides better quality value. It shows quicker, deeper, and faster improvement than other strains. You can go for 3.5 grams of CBD flower or any amount per your honey quantity.
Choose good quality honey- Although you can go for any local honey, good quality honey can offer better results.
Keep some virgin coconut oil ready. Virgin oil is unprocessed, which means it contains nutritional content in high amounts. Virgin coconut oil will work wonders for you.
Another set of utensils and instruments you will need is a jar with a lid, a cooking pot, and a thermometer. You will also require a baking sheet, oven, blender, foil, strainer, and a muslin cloth. Keep a container aside for the storage of the final product.
Also Read: Complete Guide To CBD Distillate
Recipe Of CBD And Honey Mixture
Heat your oven to 220 degrees Fahrenheit before starting the process.
Break the CBD strain into tiny pieces.
Take the baking sheet along with the foil and keep the pieces for decarboxylation. It is a process where you heat the pieces at the right temperature to activate Cannabinoids.
Take the mason jar and mix coconut oil with the decarboxylated strain of the flower.
Pack the jar with the lid and adjust it in the cooking pot. Make sure to pour some water into the cooking pot.
Keep the burner on and let the water boil. After the process, let the jar stay in it for a minimum of 2 to 3 hours.
Now take the jar out of the water and open the lid. Take a bowl, set your muslin cloth over it, pour the mixture into the bowl, and let the strained mixture pour out.
Add this mixture to the honey jar and blend it well with the blender.
Lastly, pour this honey into your final container.


Final Thoughts On CBD Infused Honey
There is essentially no restriction on what can be referred to as a "CBD honey recipe" due to the extreme versatility of CBD infused honey. It can be combined with honey to make the vinaigrette and drizzled over salads, or you can use it to substitute all or part of the honey in baked goods like honey cake.
The simplest method is probably to add a half-teaspoon to a hot cup of tea and then see how the rest of the day changes. The possibilities for using your CBD infused honey are pretty much endless. Try new things, be imaginative, and be creative, and you might end up with something tasty.
For more information contact us!
---
Interesting Reads:
Is Hemp Seed Oil High In Oxalates?
Do You Need a License To Sell CBD?