While these trying times have significantly impacted our economy and continue to affect small businesses across the nation, there are still entrepreneurs out there interested in getting into the CBD industry. The upside about this industry is that it is a viable option for individuals looking for work while they stay at home. If you find the right wholesaler that offers an exclusive white label CBD program, you can run your entire business from home without worrying about leaving.
Getting Started with White Label CBD
Currently, there are no regulations required for starting a CBD business. You will, however, need to complete standard business licensing according to your local municipality. In addition to business licensing, you'll also need to find a CBD-friendly bank account and CBD-friendly merchant processer. CBD-friendly banks tend to be local banks rather than national chains. We recommend calling local banks in order to find the right one for you. Bank accounts usually need to be opened in person but some banks are offering virtual options so make sure to see if you can complete this over the phone. Merchant processing in the CBD space can be tough but we have had a great experience with Square and are always happy to provide a referral.
The next thing you'll have to create is an eCommerce website. This is the best option for working from home and gives you a sales platform for all 50 states. You can either take on the project of building your own website or find a web developer to create your website for you. If you're planning on creating your website without professional help, WordPress is a really user-friendly option. Just make sure that your website is compatible with WooCommerce or another eCommerce platform. Once you have your eCommerce site, bank account, merchant processing, and business licensing all setup, the next thing to consider is your product line. Here are all your options:
Contract Manufacturing: While there aren't any regulations against home production, we strongly recommend against this. Producing consumer products in your home will sacrifice quality standards and can potentially jeopardize your brands and customers. If you have your own proprietary formulas, find a contract manufacturer to produce your products for you. If you find a cGMP-certified manufacturer, this can ensure that your products are manufactured with the utmost quality in mind. The right contract manufacturer will be able to ship your products directly to your customers to help streamline the process.
White Label CBD: If you don't have your own product formulations and would rather invest in other aspects of your business, white label CBD is a great option. This program is offered by numerous CBD companies, allowing you to take advantage of proven, successful products and brand them as your own. Make sure to find a white labeler that offers label design services and a dropship program for better convenience.
Private Label: Private label is another term for white label and refers to the same benefits program.
Wholesale: For businesses looking to simply sell CBD and not have their own line of branded products or would like to sell additional items, wholesale is another great option. You can purchase wholesale items and sell them on your eCommerce site. Be aware that some states do require a reseller's permit in order to make wholesale purchases. Check with your state's regulations to learn more.
Custom Formulations: For companies interested in creating their own proprietary product formulas, custom formulation services are available. This allows you to work with a company's formulators and bring your vision to reality.
Check out our blog: Michigan Hemp
Our White Label CBD Program Process
Hemp Depot proudly offers an exclusive white label CBD program that's perfect for businesses looking to launch during the quarantine. If you're interested in getting started, here's an overview of the process:
Virtual Consultations: Get started by scheduling a virtual consultation with one of our project managers. You'll be assigned a personal point of contact to ensure no miscommunications and a more efficient process. We're happy to assist you over the phone, through FaceTime, Zoom, or whatever platform is most convenient for you. Your project manager can help you design the perfect product line for your company and walk you through all the different products we have to offer. All three of our brands are available in our white label CBD program.
Samples: While we usually would invite you to our manufacturing facility to check out all the different products available, we're happy to ship samples directly to you to help maintain the stay at home order in place in many states. Your project manager can answer any questions you have regarding our white label CBD products.
Creating Your White Label CBD Order: Once you've finalized which products you'd like, your project manager will discuss label design with you. We offer complimentary label design services for all white label orders– work with our leading graphic designers to create compelling labeling for your product. If you'd like to handle label design in-house, simply email us your labels. For startups that haven't finalized their logos, we're happy to help with your logo as well. During your order creation, if there are any modifications you'd like us to make, please let us know! Since we are vertically-integrated, we have far more adaptivity than other white label CBD programs. If there's a specific terpene or flavor you'd like to add, we can make it happen. If you prefer custom packaging or a different color bottle than we normally stock, we're happy to work with you to create products that you're 100% confident in.
Manufacturing Your Order: We manufacture your order in-house in our cGMP-certified facility with our own CBD that's sourced from our Colorado farms. All white label CBD orders include a COA for you to provide your customers with. Your project manager is happy to discuss different ways of providing COAs.
Shipping and Fulfillment: Once your order is manufactured, we're happy to provide adaptive shipping and fulfillment options for your business. We offer dropship and hybrid fulfillment options that ensure a streamlined, convenient process. We can ship your white label CBD products directly to your customers so you won't have to manage shipping on your end. We're happy to provide dropship options for custom formulations and wholesale orders as well.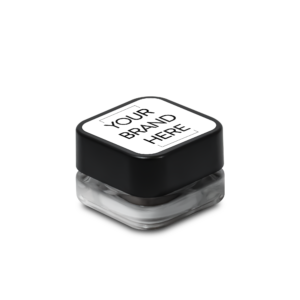 The Benefits of Our White Label CBD Program
Hemp Depot offers exclusive benefits for our white label CBD program that anyone working from home can take advantage of:
Low Minimum Orders: We have the benefit of low minimum orders of 100 which is perfect for startups and businesses looking to minimize their upfront investments and commitments. Low minimum orders give you better logistical flexibility in these uncertain times so you aren't stuck with a large amount of product.
One-Stop Shop: As a vertically-integrated company, we offer all your solutions in one place. From bulk orders to white label CBD, our team can craft custom solutions for your company. Since we grow our own hemp and extract everything in-house, we're able to provide that adaptivity that other companies can't.
Resources and Experience: As one of the oldest companies in the industry that has been cultivating our own hemp for five years, we have unparalleled resources and experience. Many companies in our industry are only in their first year and still have a lot to learn. We're able to provide the support you need for creating long-term success for your business. We have the production resources that can be highly beneficial in these uncertain times. We believe that when you succeed, we succeed.
COVID-19 Precautions: We take the health of our staff members and community very seriously and luckily already have the framework of high sanitization standards in place. With nonessential employees working from home and conducting everything via virtual platforms, we're still able to deliver the highest levels of customer service. We've even dedicated 20% of our production capacity to creating hand sanitizer so that everyone in our community can stay safe and healthy. Since we are taking every precaution possible, we are still able to manufacture and ship white label CBD orders.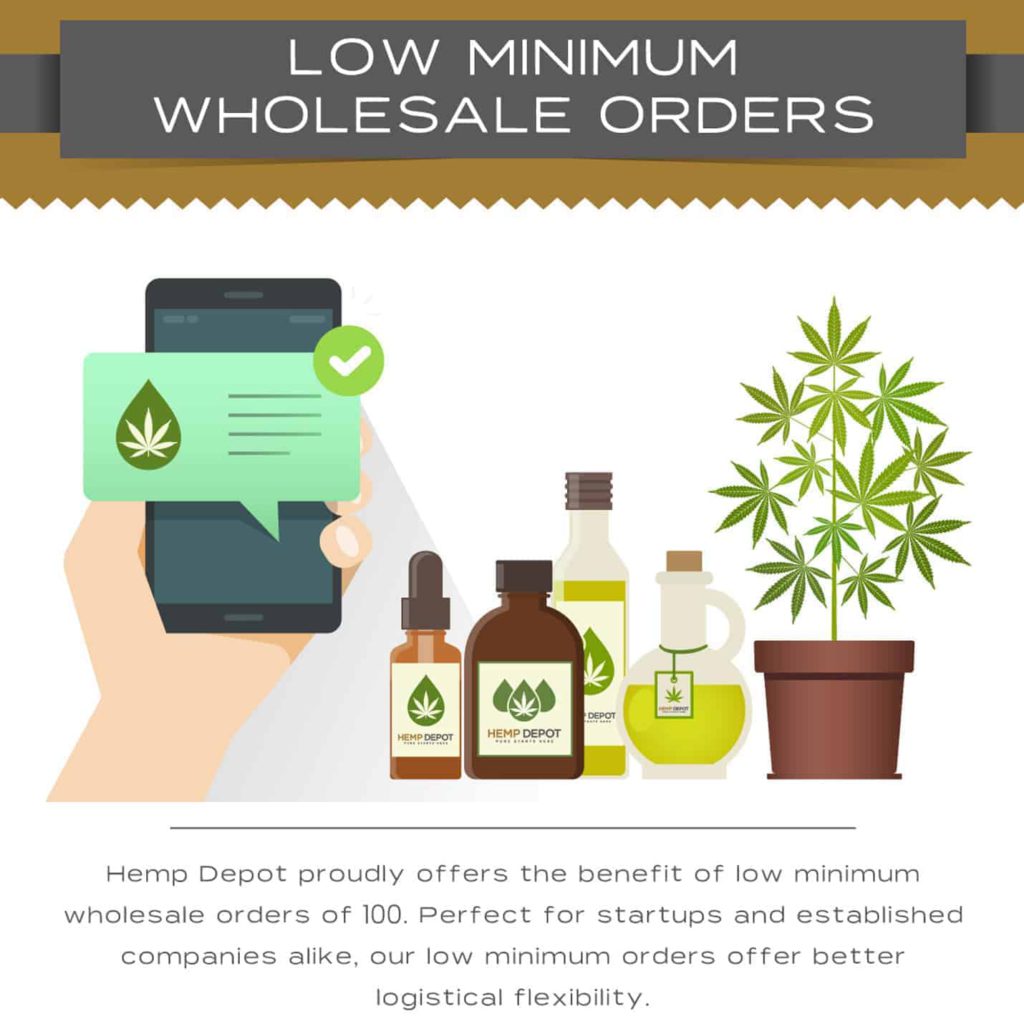 Work with the Globe's Trusted White Label CBD Provider
Hemp Depot is honored to be the trusted white label CBD provider serving the entire globe. Take advantage of our free virtual consultations and get started in this exciting, explosive industry. We're here to help you launch your business and are happy to help you in any way possible. For more information regarding our white label CBD program, please contact us!
---
Interesting Read:
What Is CBD Insurance? Do I Need It for My Business?
Where Is CBD the Most Popular? A State-by-State Comparison
Is It Too Late to Start My Own CBD Business?
CBD and Sports: Can CBD Improve Athletic Performance?
What is CBD Bioavailability and Why Is It Important?
Does CBD Flower Help You Have A Sound Sleep?