CBD products come in many different forms and potencies. Whether you buy CBD pills, tinctures, or CBD cream in wholesale, your customers are likely to ask for advice on dosage. While you need to be able to give your clients the answers they're looking for, there's no official dosage that's known to work. Let us explain.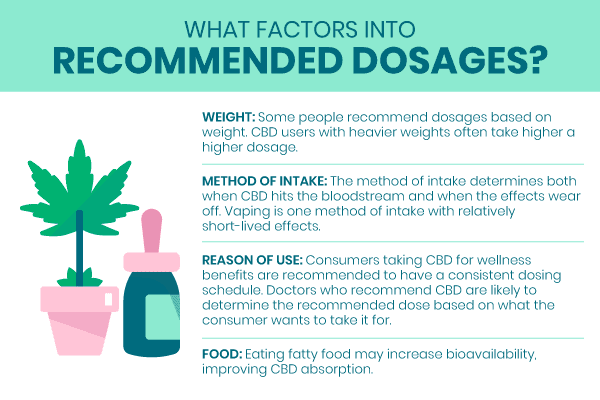 What's the Recommended CBD Dosage?
CBD products are considered to be safe, and there's minimal (if any) risk of overdose. The dosages reported by CBD consumers vary greatly, with some consumers preferring micro doses of under 1mg a day, and some therapeutic users taking more than 1,000 mg of CBD per day. CBD Dosage For Clients However, most people taking between 10mg to 100mg per day. For most non-beginner CBD consumers, 25mg of CBD per dose seems to be common.
What Factors into Recommended Dosages?
There are several factors to take into consideration when discussing dosage. Some of these factors include:
Weight: Some people recommend dosages based on weight. CBD users with heavier weights often take higher a higher dosage.
Method of Intake: The method of intake determines both when CBD hits the bloodstream and when the effects wear off. Vaping is one method of intake with relatively short-lived effects.
Reason of Use: Consumers taking CBD for wellness benefits are recommended to have a consistent dosing schedule. Doctors who recommend CBD are likely to determine the recommended dose based on what the consumer wants to take it for.
Food: Eating fatty food may increase bioavailability, improving CBD absorption.
Check out our blog: CBD Hawaii
How Often Should You Take CBD?
Just like with determining what dose to take, determining how often to take CBD is a personal decision. It all depends on the effects the consumer is looking for, as well as what works in their schedule. While some users take CBD on a daily basis, there are many that take it far less. CBD Dosage For Clients, Within the scope of daily users, some people take their CBD once a day, others twice a day, and others as needed.
Start Low and Go Slow
CBD interacts with each person's endocannabinoid system differently. So, it's always recommended to start with a low dose. New CBD users won't know what side effects they may experience, and starting at a low dose may help lessen the severity of them. 5mg is often a recommended starting dose, though it depends on many different factors.
When experimenting with CBD dosing, you can gradually increase the dose if there aren't any negative side effects. However, it's important to take the process slow, especially for new CBD users.
Here is some useful CBD products from Hemp Depot delta-8 gummies, CBD Hemp Salve.
There's No FDA Recommended Dosage
The current industry standards of CBD dosing are based on weight, reason for taking CBD, amount of CBD taken, and how often CBD is taken. However, there's no proven dosage that works for everyone, and there's no FDA recommended dosage.
Get More Information
There are always updates to the CBD world. Whether it's legal changes or changing industry standards, it's important to stay up to date on CBD news and trends. At Hemp Depot, we love to help educate our clients on all things CBD. If you're looking for advice on how to talk to your clients about CBD or you're looking to buy CBD isolate, tincture, or CBD cream wholesale, please contact us for more information.
---
Interesting Read : 
Are There Companies That Can Make CBD Products for You?
Are There Companies You Can Buy Wholesale CBD From?
How Much Does it Cost to Start a CBD Company?
CBD Oil For Leukemia: Can it Help Alleviate The Symptoms
Difference Between CBDA And CBD
How To Use CBD Isolate Powder?
Where To Buy CBD Oil In Arkansas