With the cold, flu, and coronavirus pandemic, many businesses are impacted by the ongoing quarantine. While keeping your staff members healthy is always the first priority, it can be difficult fulfilling the production side of your business with everything that's going on. If you are having supply chain issues, finding a contract manufacturer is a great option. Another turn-key solution is white label CBD. Our team is here to help you during this trying time.
The Benefits of Our White Label CBD Program During Sick Season
Due to our vertical integration, we already have a strict, streamlined process in place. Our industry experience has made navigating these times a little easier since we already have the framework. As a cGMP-certified manufacturing facility, we take employee health very seriously and ensure everything we do is FDA-compliant for customer safety. With the most extensive resources, we're able to fulfill any white label CBD orders. Our dropship program offers convenience and safety for you and your business. By shipping your products directly to your customers, we're able to alleviate extra stress and help you focus on the aspects of your business that need you the most. Every white label order also includes complimentary marketing resources and the benefit of low minimum orders of 100. Your personal project manager will be available for phone calls and virtual meetings so we can still get your label designs completed for production. We've taken every precaution possible with non-essential staff working from home but making sure all shipments and orders are delivered by your required deadline. While we are exercising caution, all of our white label, private label, custom formulation, wholesale, and contract manufacturing services are still available. If you need a custom, temporary solution for your CBD business, we've got you covered. We're happy to help in any way that we can.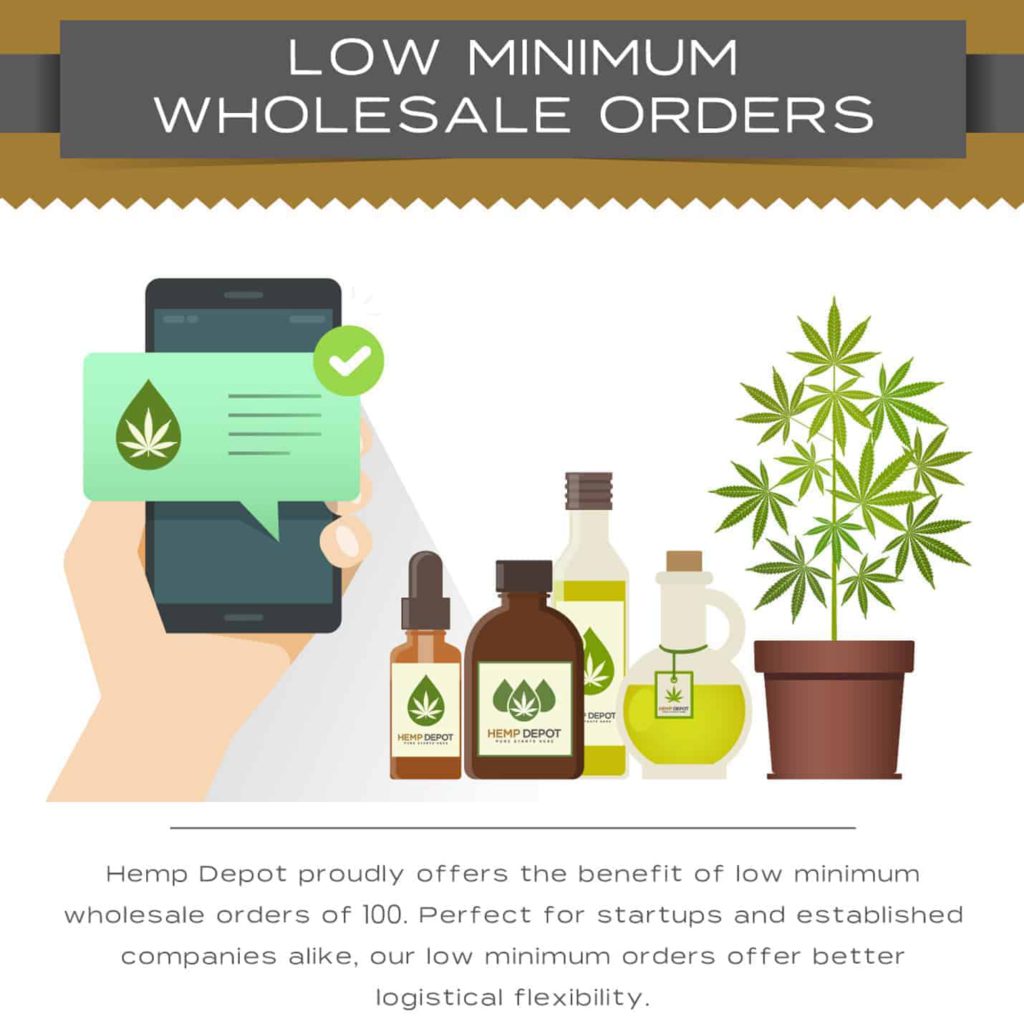 Check out our product: CBC Distillate
Work with the Nation's Trusted White Label CBD Supplier
Hemp Depot is honored to be the trusted white label CBD supplier serving the nation and the globe. For startups and entrepreneurs looking to get started in the CBD industry, you can still make your dreams a reality without leaving your home. We're happy to set up turn-key solutions for your white label needs, providing everything you need from start to finish. For more information regarding our white label CBD program, please contact us!
Interesting Read:
Is Your Wholesale CBD Available in All 50 States?
Can CBD Wholesale Orders Be Purchased Internationally?
Is it Possible to Dropship Private Label CBD Products?
CBD In Alaska: Everything You Need To Know
What Is CBDA: Facts And Health Benefits
Is CBD Oil Legal In New Jersey