Despite being regarded as a high-risk business, the CBD industry is burgeoning currently. CBD is more popular than previously as a well-being supplement. Consumer demand is huge, so though the market may seem crowded, it appears like the perfect time for small businesses and startups to take a plunge into the arena of selling CBD. A capable, flexible and modern payment solutions provider can handle the credit card processing end of things. For CBD production, white labeling could be the option you're looking for.
White label services for CBD products, make it simple for businesses to rapidly launch and grow their product lines. White label products comprise pre-formulated items that are produced by a third party and sold to retailers who then sell them to consumers for a little markup. This dynamic operates effectively for all involved – the retailer earns money and keeps his shelves full without needing to manufacture anything in-house and the manufacturer gets a return customer base for his amazing hemp products.
Also Read: Full Spectrum vs Isolate CBD
What Are White Label CBD Products?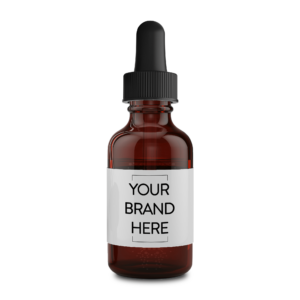 White-label CBD products are those that a third party creates and sells to retailers. As implied by the name, white-label products are ideal for businesses who wish to include their individual branding and label available formulas and then sell them as their own. White label products vary from private label products since they employ standardized formulations. Companies that want to sell custom products should look for a private label distributor to aid them to develop the perfect formulations for their specific needs.
Also Read: Are CBD Products Legal In All States
Benefits Of White Label CBD Companies
You have 3 options in the matter of selling CBD products: white-label CBD products, wholesale products, or private-label CBD products. Obviously, you won't be spending money on manufacturing, packaging, or designing your CBD products with white labeling. Besides, labeling costs are comparatively cheaper. White labeling companies usually have the required staffing and resources to bring to life any CBD product line.
Manufacturer's License Is Not Required
Licensing is among the largest and most time-taking struggles for people seeking to create their own CBD products. Initially, you will need to get your own licensing. Next, you must conform to all the laws involving the production of Hemp and CBD-based products. Nevertheless, you can get these licenses without bothering about eligibility bottlenecks or cumbersome paperwork by associating with a white-label CBD partner.
Quality Assurance
Functioning with a reputed white labeling company is the finest thing you can achieve for your latest CBD products. A reputable company enables you to ensure quality assurance. These companies assure that all of their customers are content by holding their products to the highest quality level. Partnering with them assures that you are selling quality products to your consumers and customers. So, developing a strong business brand is rendered much simpler with white labeling.
Time-Saving
Time acquires center stage with regard to running a business! It would be splendid for everyone concerned if you had time to focus on other essential matters. Happily, for you, that's what a white-label partnership carries to the table. White labeling is the finest way to conserve time that you would have expended manufacturing your products. The whole process is designed to offer you completed labeled products. Consequently, you will not become involved in the licensing, paperwork, or culturing of CBD products. You also won't need to bother about sourcing the ingredients, employing technicians, and building the correct formulas.
Brand Recognition
Getting your company or brand's name on products develops powerful brand credibility and recognition. White labeling allows you to come up with your own name for your CBD products! A favorable name and a well-placed ad can immediately work wonders to enhance your brand recognition. Excellent brand recognition implies that satisfied customers will then proceed to suggest your brand to others!
Also Read: Is CBD Legal In West Virginia
Choose The Best White Label CBD Solution
Hemp Depot's white label program allows you to gain unrestricted access to a single source for your entire custom white label CBD product requirements. In the bursting world of hemp-related product sales, this single contact point for all CBD products is crucial for an agile approach to a quick-moving marketplace. As a vertically-integrated company, they grow, prepare, quality-check, package, and drop-ship your selling-ready CBD products directly to your point of sale.
By starting with the most varied catalog of premium CBD-rich hemp seeds within the country that has specifically been bred by scientists and farmers for CBD extractions, they grow their non-GMO hemp in the rich Colorado soil following organic farming practices. The outcome is genetically excellent ingredients that will make your CBD products stand apart in a progressively crowded industry. Their expert-made finished CBD products have been effectively proven in the marketplace, providing premium tinctures, vape pens, topicals, pet care, soft gels, and plenty more. Collaborate with the industry pioneers to get access to pure, efficient CBD products that are present for their easy, competitively-priced white-label program!
Enjoy the awesome benefits of Hemp Depot's white label CBD program:
Successfully proven completed CBD products: With 3 major brands of completed CBD products, we provide the most extensive range of products present for white label. If we don't have a specific product that you're looking for, benefit from our custom formulation services.
One point of contact: At Hemp Depot, we connect every partner with an account manager besides around-the-clock entry to a reliable team of experts who have decades of joint experience developing CBD brands. Possessing a single point of contact reduces the chance of miscommunication and offers a convenient, cohesive process.
Independent, third-party examined: Every white label product you buy through Hemp Depot is independent, third-party checked. We always offer COAs for client use. This assures safety and potency while reducing your business expenses. Conserve money on lab testing without giving up brand integrity.
Vast Industry knowledge: As our company is engaged in every part of the white label manufacturing business from field to label, we provide precious industry info and insights like payment processing and regulations.
Large-scale white label orders present: Our production facility is capable of manufacturing big-scale white label retail orders. We assure that no order is too big, sticking punctually to deadlines and offering the benefit of constant reliability unlike several of our competitors.
Shipping and drop ship options: We have a complete range of shipping solutions that function seamlessly with your white-labeled products, shipping customs, and requirements. Dropshipping, low-quantity shipping, international shipping, blind shipping, and expedited shipping are all inside our capabilities.
Customized labeling: We have an easy, straightforward process to design custom labels from clear to metallic. With extensive options to match your specific brand identity and differentiate your product, we're joyous to promote your brand vision. For startups that haven't completely built their branding, our marketing team and graphic designers are present for aiding you to design your product labeling.
Long-duration white label partnerships: Our aim is to offer the easiest, dependable white label program for our entire CBD partners. With the most substantive white-label experience, we've divided the most successful process for long-duration white-label partnerships. We have specific storage options for our entire clients to assure we have your complete label and packaging collateral on hand and prepared for your upcoming shipment. You simply have to contact your project manager with your white label order and deadline and we'll attend to the rest.
Hemp Depot's range of White label services for CBD products includes White Label Full-Spectrum CBD Tincture With Sunflower Lecithin, White Label Broad-Spectrum CBD Softgels, White Label CBD Isolate Gummies, and White Label CBD Isolate Sauce, besides a host of others.
Conclusion On White Label Services For CBD
The CBD industry is among the present world's fastest-developing industries. As the industry's worth is anticipated to witness an exponential rise over the next few years, it's no wonder that numerous small businesses and entrepreneurs are seeking a way to gain from it. White labeling might be the finest option for businesses having to consider financial and other obstacles. As a white label partner, you can ease without needing to bother about the effort, money, and time needed to manufacture, source, and package CBD products. Rather, with White label services for CBD, you receive the opportunity to make a pre-made product personal by just applying your brand to the label and packaging.
For more information, contact us!
---
Interesting Reads:
Where to Buy CBD Oil in Pennsylvania
Will New Hemp-Infused Drink Be A Trendsetter Among Big Brands