Hemp Depot | The Industry's Most Successful CBD Private Label Program
Hemp Depot has been conducting a successful private label CBD program for years. We operate with the highest level of integrity to ensure that our private label CBD products are pure, safe, and effective for our partners. Being a seed to label provider allows us to maintain a high level of quality standard that far exceeds our competitors. Our private label CBD products are carefully scrutinized throughout every aspect of their production from cultivation to refinery, packaging, and distribution. When you partner with us, you'll gain immediate access to a wide range of products for your private label, including CBD skincare, tinctures, softgels, vape, and many more.
Letter from Our CEO
"We are humbled by the fact that our private label program has been so successful. Being able to work alongside business owners and help their company become a success is an experience more rewarding than we ever imagined. We understand the challenges that are involved with trying to break into the CBD industry, and aim to be a valuable resource for our private label customers as they journey down this path."

-Andy Rodosevich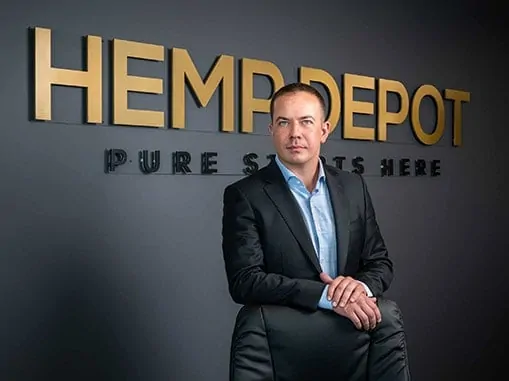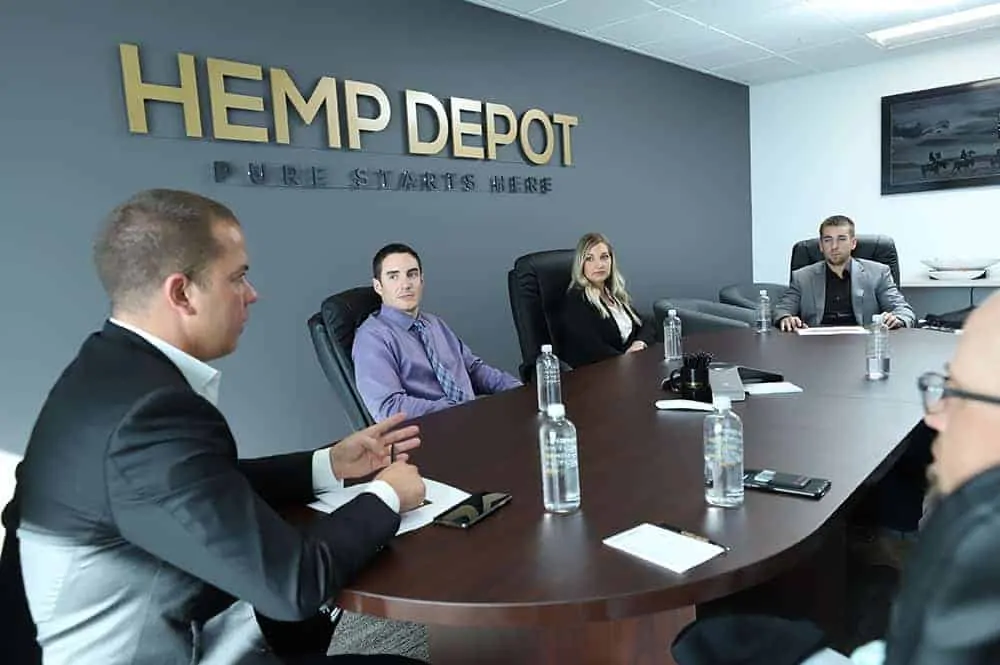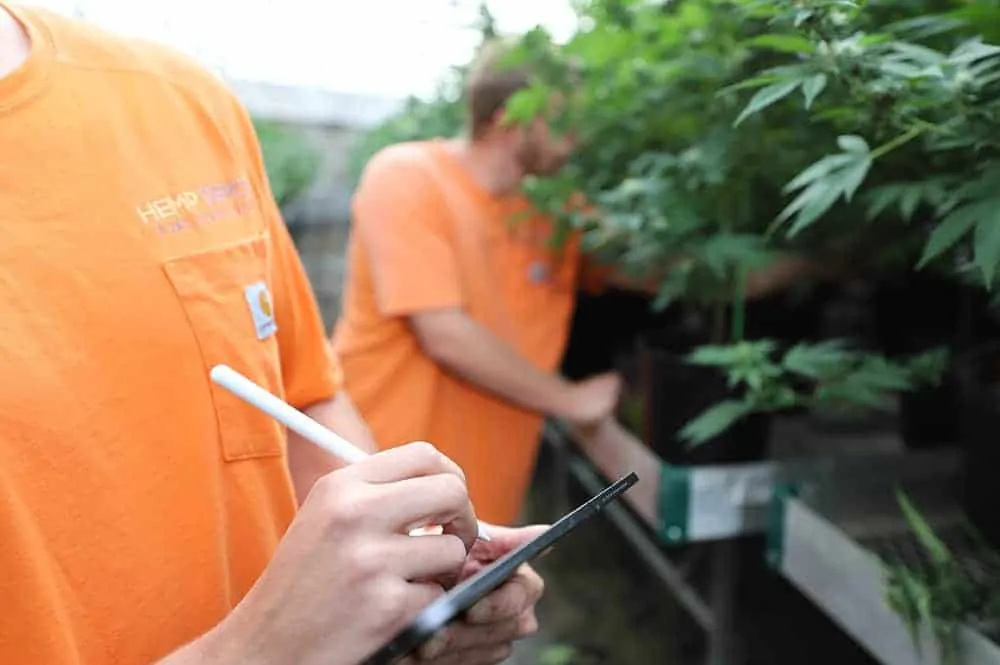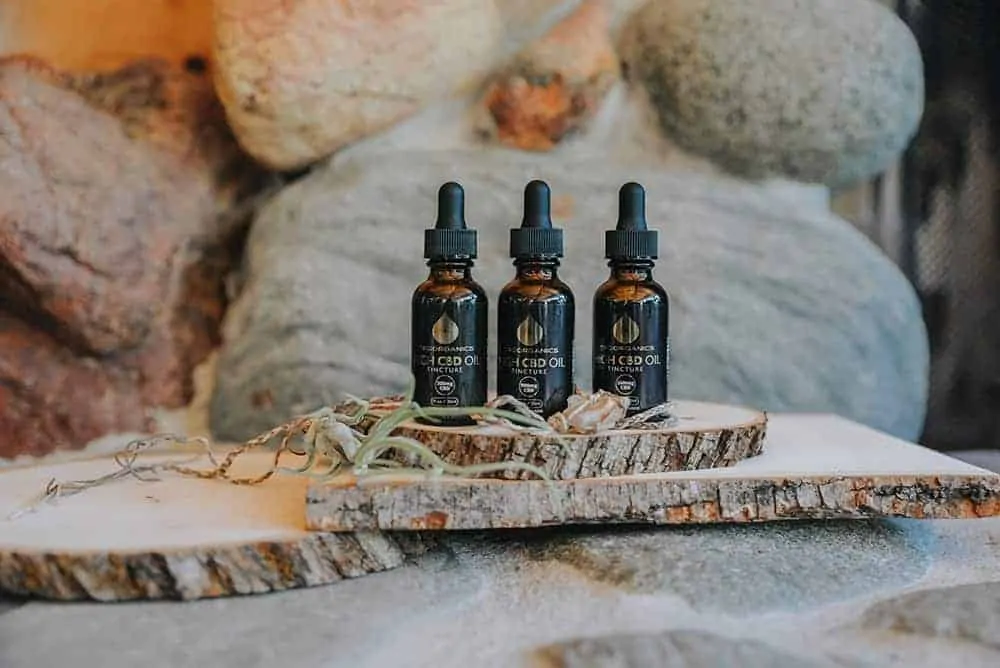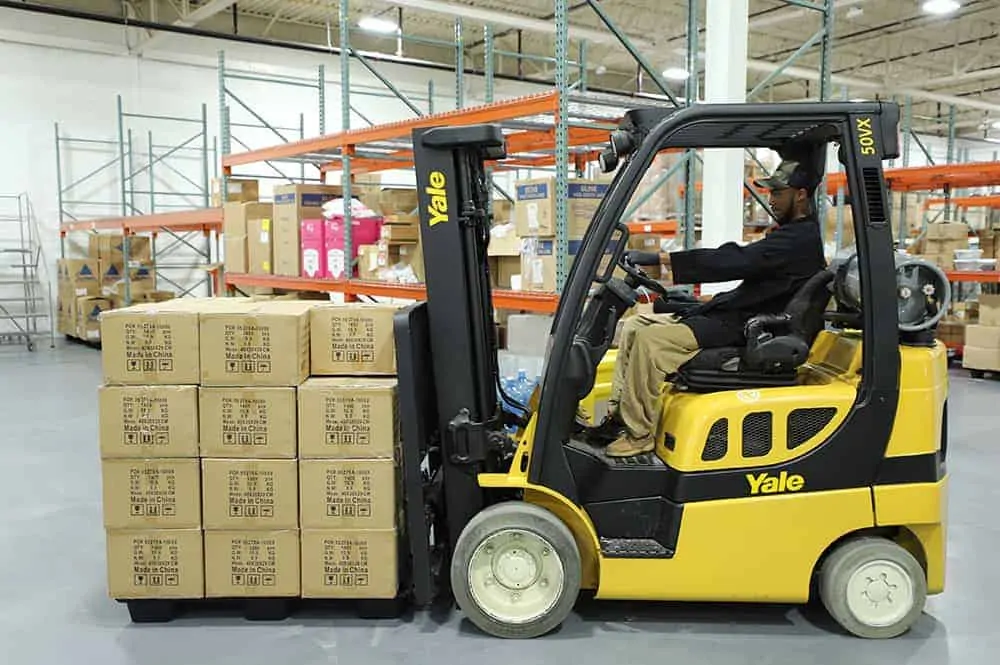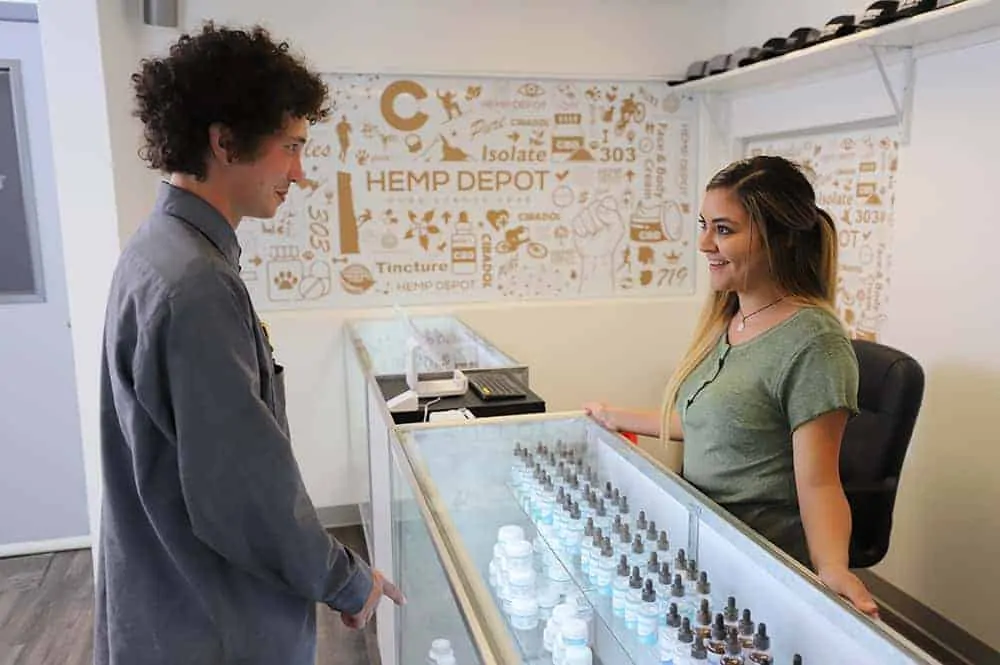 At Hemp Depot, we are passionate about helping our fellow business owners succeed. We stay in close communication with our private label partners and are always willing to go the extra mile to ensure your satisfaction.
Expert Knowledge & Insight
We've been working in the hemp and CBD industry since the beginning. Our team is comprised of the nation's leading scientists, formulators, and researchers. We're happy to extend our growing knowledge to all of our private label partners. 
Navigating laws and regulations regarding CBD can be challenging. Let our seasoned pros guide you through difficult legality issues, FDA compliancy, payment processing, and other challenges.
Every private label partner is assigned a project manager as a single point of contact. Your project manager is available for all your business needs whether you need product labeling design help or would like marketing advice. 
Honest & Ethical Partners
Hemp Depot is committed to the safety of your customers. Our products are held to rigorous standards to ensure that they are safe for human and animal consumption and are free of harmful ingredients. Every finished CBD product available for private label is independent, third-party lab tested. 
We are honest and transparent about every aspect of our business. We provide our private label partners with full COAs and welcome you to visit our farms and manufacturing facility. 
Our hemp is grown using organic farming practices and is free of toxins, pesticides, and heavy metals. All of our hemp is grown domestically on our Colorado farms.  
Custom Branded Private Label CBD Products
We maintain absolute discretion. When you purchase private label CBD products from us, there will be no mention of Hemp Depot on your labels.
Our in-house graphic designers are here to assist with all of your labeling needs. 
Customize what's in your products and how they look by choosing from different terpene profiles, flavors, delivery methods, and containers. 
Fast, Reliable Shipping & Convenient Prices
Once produced and branded, we'll ship your products right away so that they arrive at your designated location by your provided deadline.
When you purchase private label CBD products from us in wholesale quantities, you'll receive a discount on prices ranging from 50-80% off their market value.
We offer the benefit of low minimum private label CBD products of 100, ensuring better pricing and logistics for startups. Our manufacturing facility can handle large-scale retail orders of any size for comprehensive wholesale private label capabilities. 
Distance is not a problem. We can ship our products to any location in the world, local laws permitting. 
We offer the option of dropshipping directly to your customers for the most convenient, streamlined process. 
Private Label Program  Process – How to Get Started
Becoming a member of our private label program is easy. Follow these simple steps to get started. 
Fill out the private label order form online.
Provide us with a copy of your logo and/or brand colors. 
Once our in-house graphic designer creates your custom labels, we'll send them to you for approval. When we've received your final approval, we'll manufacture your private label CBD products with your branded product labels and packaging. 
All private label CBD products will be shipped directly to your designated destination through our various shipping carriers or via our own shipping trucks. We always provide tracking information for you and your customers.
Hemp Depot
Label Design Services
Do you need someone to design labels for your CBD products? We can help! We have experienced graphic designers on staff who can assist your company with creating labels. 
Requesting label design services from Hemp Depot is easy. Just fill out the correct form online and provide us with all the necessary details about your brand. If you have a logo that you would like to use, please be sure to send it over to us. Once we receive your request, we'll create your labels and send them back to you for approval before manufacturing your private label CBD products.
Why Work with a Vertically Integrated Supplier 
When you partner with Hemp Depot for your private label CBD needs, you gain access to all of the benefits and convenience of working with a vertically-integrated supplier. Obtain the peace of mind of knowing where your products come from and how they are handled before they reach your customers. We welcome all of our private label CBD clients to visit our farms and manufacturing facility.
Pesticide and Toxin-Free CBD
Our CBD products are made from hemp that's grown on our privately-owned farms in Colorado. We employ organic farming practices to ensure that our products are pure and safe for consumers. Everything is independent, third-party tested for guaranteed potency as well as pesticide and heavy metal content. 
Potent and Pure Private Label CBD Products
Our leading farmers and scientists have assisted our efforts in comprehensive research and development. We've succeeded in creating CBD-rich hemp seeds that deliver the highest levels of CBD potency on the market. Our purity standards start with our farming practices and embody every process from extraction to manufacturing. 
Vertical Integration Offers Extensive Quality Control
Being a seed to label provider allows us to maintain steadfast control over the quality of our products. We oversee every aspect of production, from cultivation to finish, carefully monitoring quality at all times. This offers the added benefit of additional savings that we happily provide directly to our private label CBD partners. 
Advantages of Participating in Our Private Label CBD Program
Join the industry's leading private label CBD program today. Experience the benefits of being one of Hemp Depot's many valued partners:
Industry-leading CBD products sold under your private label brand
Labels and packaging produced by a team of experienced, in-house graphic designers
Obtain premium, pure CBD products for your business at the most competitive prices
Gain access to COAs regarding the quality and purity of your products, helping reduce your business expenses
Option to request a customized formula for each of your products
Safe, pure CBD products that are absent of pesticides and toxins and are sourced domestically from our Colorado hemp farms with organic farming practices 
Very low minimum quantities of 100 for all private label CBD purchases
Ability to obtain any size order quickly and efficiently, and have them delivered on-time
Access to excellent advice and information from your personal point of contact
Full access to dropshipping services through reliable shipping carriers
Private Label CBD Program FAQ
Q: Are all of Hemp Depot's products available through the Private Label Program?
A: All of our products from the Pure Pet CBD and Cibadol lines are available for private label.
Q: What is the lowest quantity I can order?
A: Our private label products are available in minimum orders of 500, offering logistical flexibility for startups. Our manufacturing facility is well-equipped to handle large-scale retail orders as well.
Q: What should I do if I am not ready to place a large order?
A: All of our Hemp Depot brands are available for individual purchase through our website. If you're unable to purchase wholesale orders, all our CBD products can be purchased individually at retail prices. With low minimum orders of 100 for wholesale and white label and 500 for private label, these orders are much more attainable than our competitors. 
Q: How do I pay for my order?
A: You can submit payment for your order during the label design process. After we send your first design and you give us your approval, we will send you the entire invoice. Payments can be submitted through Zelle, wire transfers, ACH, or a cashier's check for all private label CBD orders. Please note, we will not begin printing any labels until this payment is received.
Q: Can you expedite my order?
A: In most cases, we are able to expedite orders. We recommend speaking to your project manager as soon as possible regarding your deadline and any expedited requirements.
Q: Can you create labels for me?
A: Absolutely. We offer in-house label design services for private label CBD partners just like yourself. For startups in the early stage of development, we're always happy to help with logo design and brand colors. 
Q: What color bottles or containers do you offer?
A: Our containers are available in three different colors, including white, blue and amber. If you would like something different, please let us know. We're happy to provide whatever bottle packaging that you're looking for at an additional cost.
Q: Will you help me get barcodes for my labels?
A: We are not able to help you with the process of obtaining barcodes, but we are happy to recommend the right vendors. If you're applying for barcodes, please make sure they're the right size and let us know so we can properly coordinate and add them on your labels. 
Q: Can I have black labels?
A: Sure thing! Your labels can be any color you want them to be. 
Q: Will my products expire?
A: The standard shelf life for our finished CBD products is 2 years based on proper storage. We recommend keeping your inventory in a dry, cool place out of direct sunlight. While refridgeration is not required, it may help extend product life. After the 2 year mark, the CBD in your products will lose potency but remain safe. Please be aware of other ingredients in your products expiring and share proper storage tips with your customers. 
Q: Does Hemp Depot offer other products that aren't listed online?
A: We're always improving and expanding our product line. For more information on what we'll be adding next, you can sign up for our email list or call our office directly. If you're looking for a certain product that isn't currently offered, check out our custom formulation services. 
Q: What is the difference between white labeling and private labeling?
A: White label refers to taking our existing products in their existing containers and applying your label to them instead of ours. If you are looking to change the container, potency, flavor, etc. then you'll fall into our private label program. If you are looking to have a new type of product created or change the flavoring of our gummies or pressed pills, you'll need to review our custom formulation services. 
Q: Will there be any indication that my CBD products are private labeled?
A: Hemp Depot deeply values discretion and ensures that there will be no indication that your CBD products are private labeled. There is no mention of our company on your products and your brand will not be mentioned on any of our online or printed materials without your written consent. 
Q: Can I private label CBD products if I have an existing product line?
A: Yes, anyone can take advantage of our private label program. Private labeling provides a great opportunity to diversify your existing product line, create a new product line for your startup, and easily join the CBD industry.
Are You Launching a New
CBD Brand or Startup Business?
Hemp Depot is here to help your business succeed. Becoming a member of our private label program allows you to gain access to knowledge and insights acquired by the leading experts in the CBD industry. Check out our complimentary resources to stay up to date on marketing trends, news, and CBD industry developments: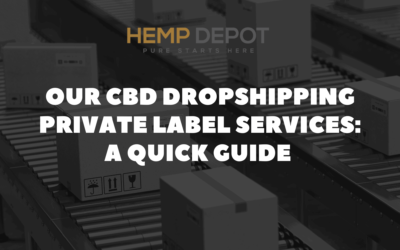 Finding a distributor who can carry out CBD dropshipping for your private label products is...
Start Your Private Label CBD Order Today
Contact us today to become one of our private label CBD partners. Our team is happy to answer any questions you may have regarding our private label program, vertically-integrated process, and more. For more information, call us at 844-HEMP234 or email us info@HempDepotCo.com. We look forward to working with you!