Hemp Depot | The Globally Renowned CBD Wholesaler
Hemp Depot is a globally renowned wholesale CBD product manufacturer located in the United States. As a seed to label provider, we are the largest and most recognized manufacturer of our kind and are trusted by countless businesses across the globe. Our company possesses the most comprehensive CBD-rich hemp seed stockpile in the U.S. and offers generous options for wholesale customers, including CBD isolate, CBD oil, topical products, pet products, edibles, vape juice, and many more. 
Wholesale CBD Products
Sourced from Colorado Farms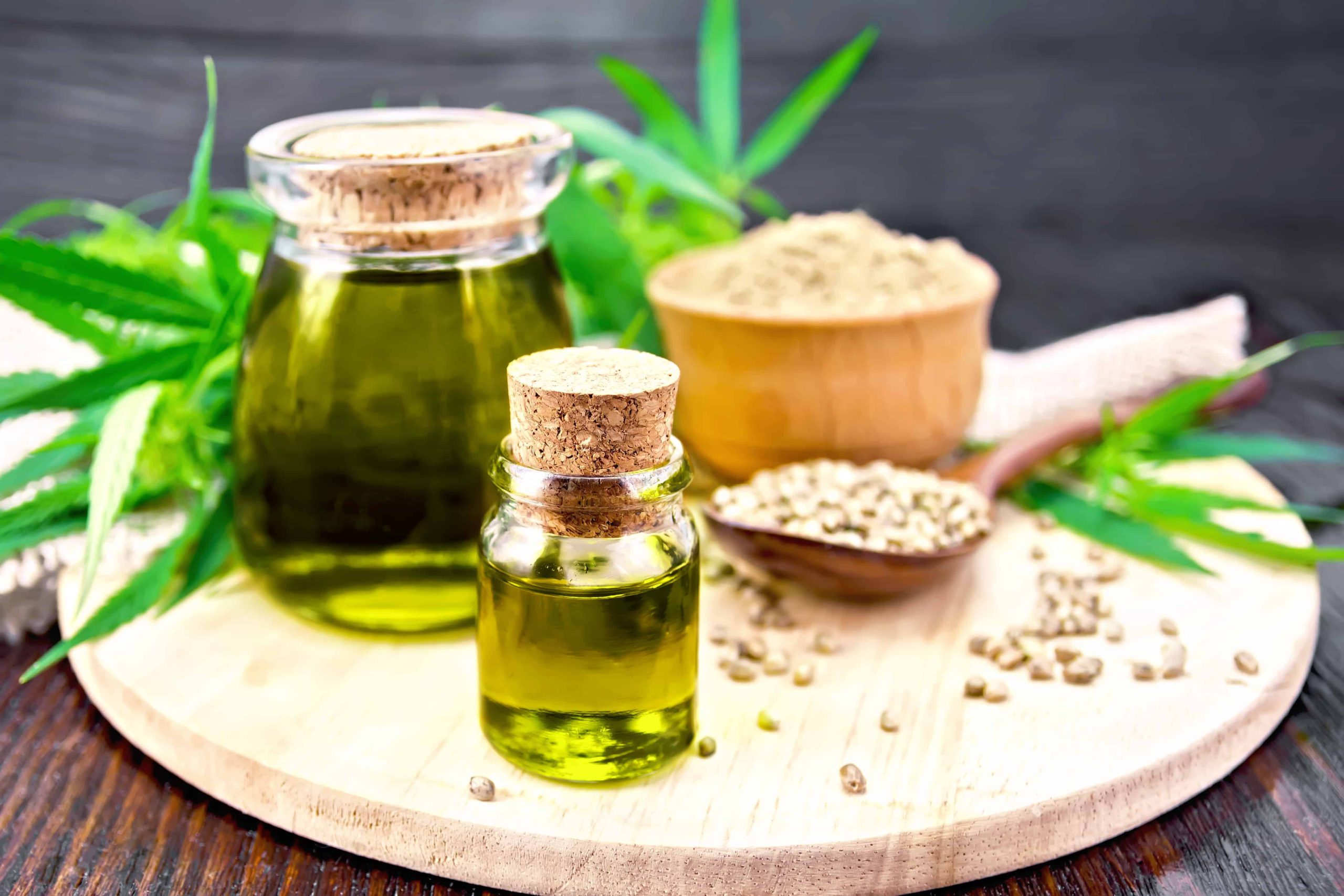 When you purchase wholesale CBD from Hemp Depot, you're acquiring the purest, highest-quality products available on the market. All of our wholesale tinctures, isolate, edibles, vape products, pet products, and topicals are manufactured from hemp plants grown and bred on our very own farms in Colorado. Our non-GMO hemp crops are cultivated with organic farming practices to ensure no pesticide or toxin exposure. 
We meticulously monitor every aspect of our manufacturing process, from breeding CBD-rich hemp seed to custom formulation and labeling conducted in our Colorado Springs facilities, to ensure their absolute quality and purity. In an effort to maintain our rigorous standards, every wholesale CBD product that passes through our hands has been tested by an independent, third-party lab. Businesses purchase wholesale CBD from us because they know that our products are safe, pure, and effective. 
Wholesale CBD Products for
Each and Every Industry
Our wholesale CBD products are available for purchase for businesses in any industry. Whether you're looking to expand your spa service offerings by purchasing wholesale CBD oil or would like to add a comprehensive CBD product line for your health and wellness store, Hemp Depot has you covered. 
Food and Beverage Retailers
We partner with all types of food and beverage retailers and work closely with business owners to accommodate their needs. While regulations regarding food and beverage laws vary from one state to the next, we are able to offer a wide range of options for businesses who can sell these products legally, including water-soluble CBD, isolate, and tinctures. For companies looking for custom formulations, work with our leading scientists to create your own proprietary CBD-infused food or beverage. 
Supplement and Vitamin Retailers
Our wholesale CBD pills, isolate, and tinctures make an excellent addition to product lines intended for health and wellness. Start browsing options for your vitamin, supplement, fitness, or health food store today.
Pet Product Retailers
Pet owners are always seeking healthy solutions for attending to their furry friends' needs. Hemp Depot offers a wide selection of wholesale CBD pet products for pet stores, veterinarians, and pet businesses.  
Cosmetic and Skincare Retailers
CBD can be introduced to the body by applying it topically to the skin. This makes it an ideal addition to cosmetic and skincare stores. Hemp Depot offers a wide range of wholesale products intended for topical use, including creams, oils, bath bombs, and skin care products.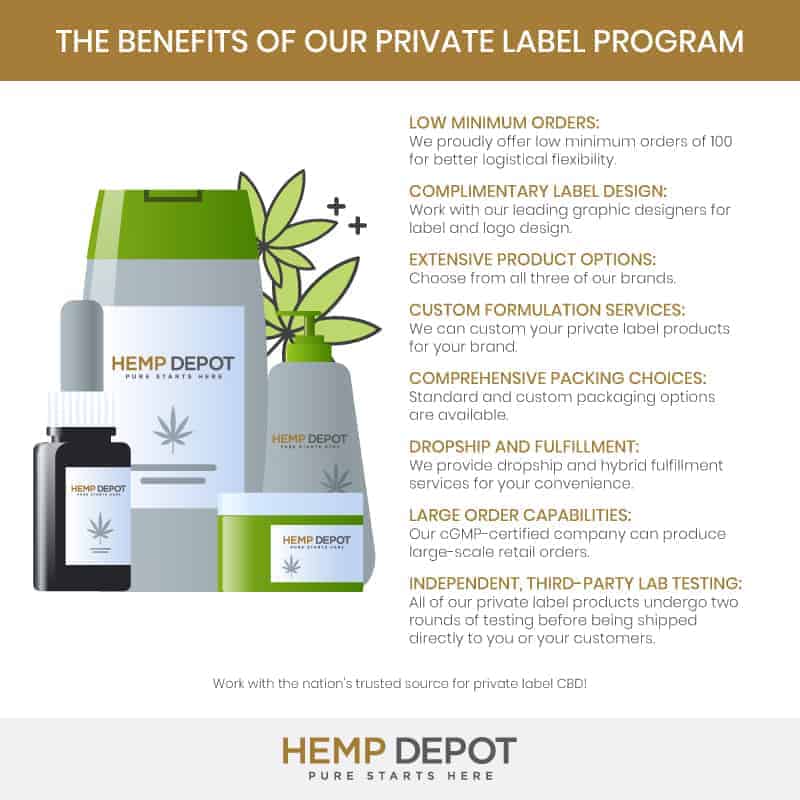 Hemp Depot Is Your Source for
High-Quality Wholesale CBD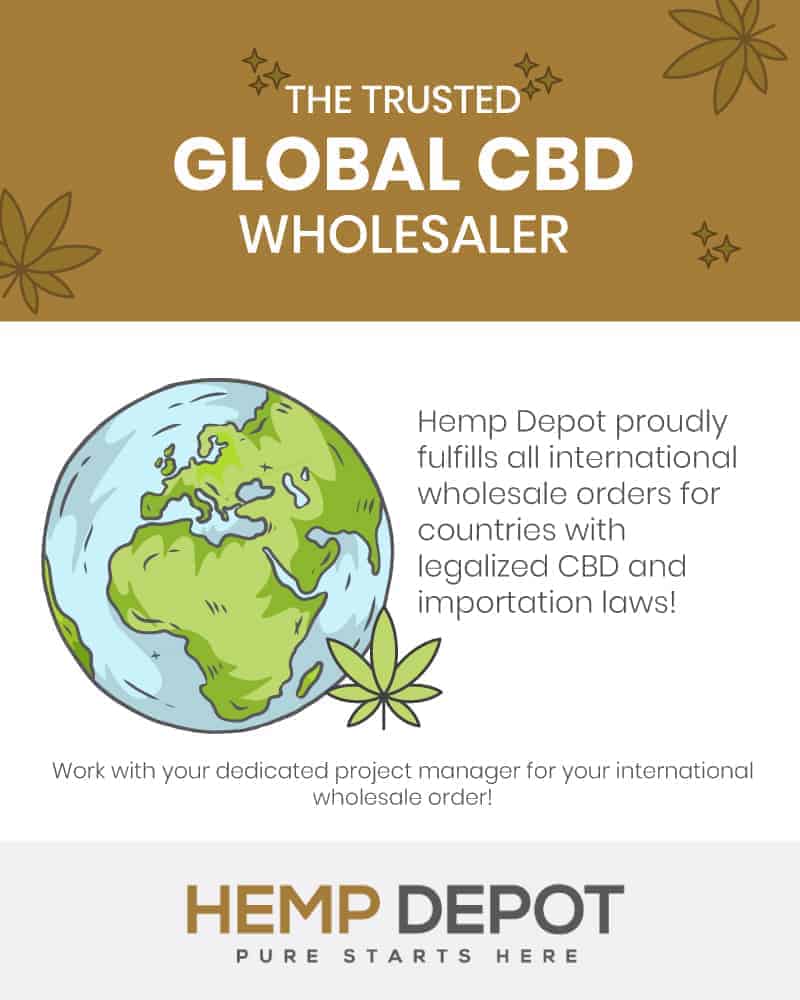 At Hemp Depot, pure starts here. We understand how important it is to you that your products are safe and effective, and that your reputation is on the line. We're here to help your business obtain the safe, high-quality products you need by your deadline. Being a seed to label provider allows us to offer the highest quality CBD at affordable wholesale prices. When you work with us, you can rest assured that your business is in good hands.
Q: What is your minimum for wholesale CBD orders?
A: We offer the advantage of low minimum orders of 100, providing better logistical flexibility for small businesses and startups. 
Q: Are all your CBD products available for wholesale?
A: Yes, all three of our Hemp Depot brands are available for wholesale orders. 
Q: Is it possible to order a wholesale CBD order but have the products branded under my company instead of Hemp Depot?
A: Yes, we offer an exclusive white label program and welcome partners from across the nation. Learn more about our white label program. 
Q: Do wholesale CBD orders come with COAs?
A: Yes, all of our CBD products available for wholesale are independent, third-party lab tested and COAs are provided. COAs can be found on our website here. 
Q: Do you need a reseller permit to purchase wholesale CBD orders?
A: Reseller permits are required by certain states for wholesale purchases– since we are located in Colorado, we do not require any reseller permits for wholesale purchases. 
Q: Can anyone purchase a wholesale CBD order?
A: Yes, wholesale orders are available for any individual or company. As long as you meet our minimum order requirement of 100, we're happy to fulfill your wholesale order. 
Q: What is the turn around time for a wholesale CBD order?
Q: Can you hold my CBD wholesale order if I'm not ready for delivery?
A: Yes, we're happy to hold your wholesale order and have it delivered whenever you are ready. 
Q: Can you expedite my wholesale CBD order?
A: In most cases, we are capable of expediting wholesale orders and will do our best to meet new deadlines. If you need your order expedited, please speak to your project manager as soon as possible.
Q: What is your wholesale order return policy?
Wholesale CBD Resources
Check out our complimentary wholesale CBD resources for leading marketing tips, comprehensive advise on starting a CBD business, and much more: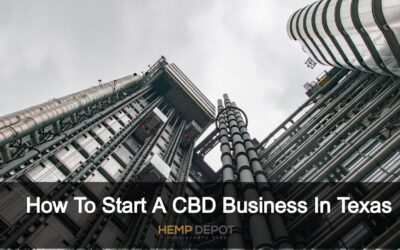 People are now more interested in their legal status in the United States and the business...
read more
Start Your Wholesale CBD Order Today
Contact us today to learn more about our wholesale availability! Our team is happy to answer any questions regarding our wholesale CBD options, quality standards, and more. For more information, call us at 844-HEMP-234 or email us info@HempDepotCo.com. We look forward to working with you!